EASY TO FIND & EASY PARKING
Plenty of Free 'Territory Sized' Car Parks
Gateway has free parking for over 1,400 cars, including undercover and shade cloth protected. Car park access is available via Roystonea Avenue, Yarrawonga Road and the Stuart Highway left-hand inbound lane.
All Roads Lead to Gateway
Gateway is prominently located at the junction of Stuart Highway, Roystonea Avenue and Yarrawonga Road, Yarrawonga. On the doorstep of City of Palmerston residents and an easy 20-minute commute from the Darwin CBD and pretty much anywhere else in Darwin. Gateway is a great stop for those heading to our national parks.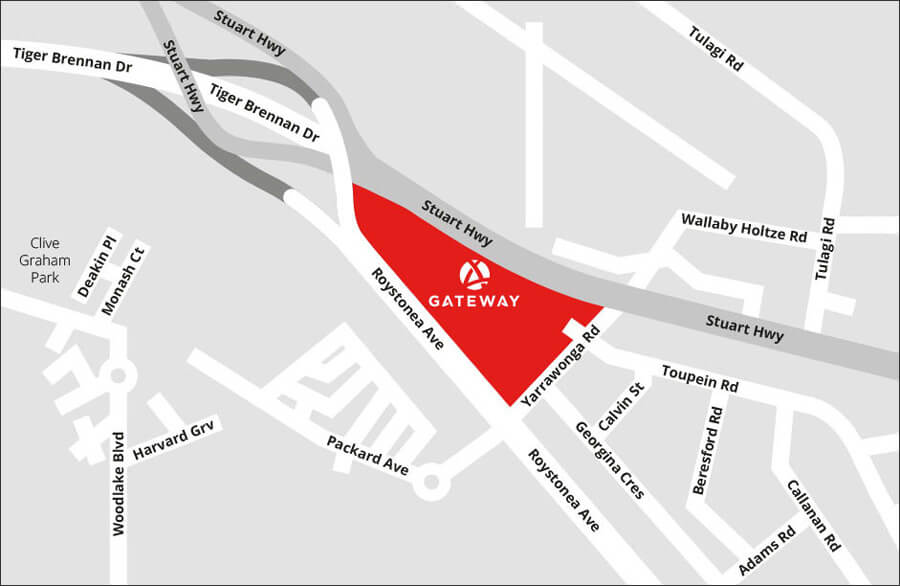 Travelling by Car
From Darwin CBD
Travelling along Tiger Brennan Drive, it's approximately 20 minutes to Gateway. Use the left lane to take the slip road onto Roystonea Avenue. Gateway is located on your left.
From the Northern Suburbs and Darwin Airport
Make your way to McMillans Road heading outbound onto the Stuart Highway, then follow the signs to Palmerston. Once you reach Roystonea Avenue, Gateway is located on your left.
Travelling by Taxi
Taxi Rank
Looking for a taxi? A taxi rank is conveniently located outside of the centre, near Landmark, adjacent to Roystonea Avenue.
Travelling by Recreational Vehicle
RV Parking
Whether you're a Grey Nomad, a Territory adventure seeker or a Darwin local, Gateway has a dedicated RV parking facility on site, located near Landmark.