Gateway invites you to a FREE Morning Tea with Kristy O'Brien
10am-11am, Wednesday 28 October
You're invited to join us for a free morning tea at Gateway lead by guest speaker, Kristy O'Brien.
From an award-winning journalist, to becoming the NT Chief Minister's wife and now raising a newborn… Kristy O'Brien reveals her personal story and shares tips for other mothers with busy husbands in demanding roles that force them to be away from home. Kristy will also share some local support resources that helped her with motherhood and various other challenges.
Enjoy a free tea or coffee and morning tea, plus meet other local parents and expand your social network in Darwin.
This is a free event and tickets are strictly limited – click here to RSVP now.
*Please note: This event will be held at Event Cinemas Gateway and physical distancing measures will apply.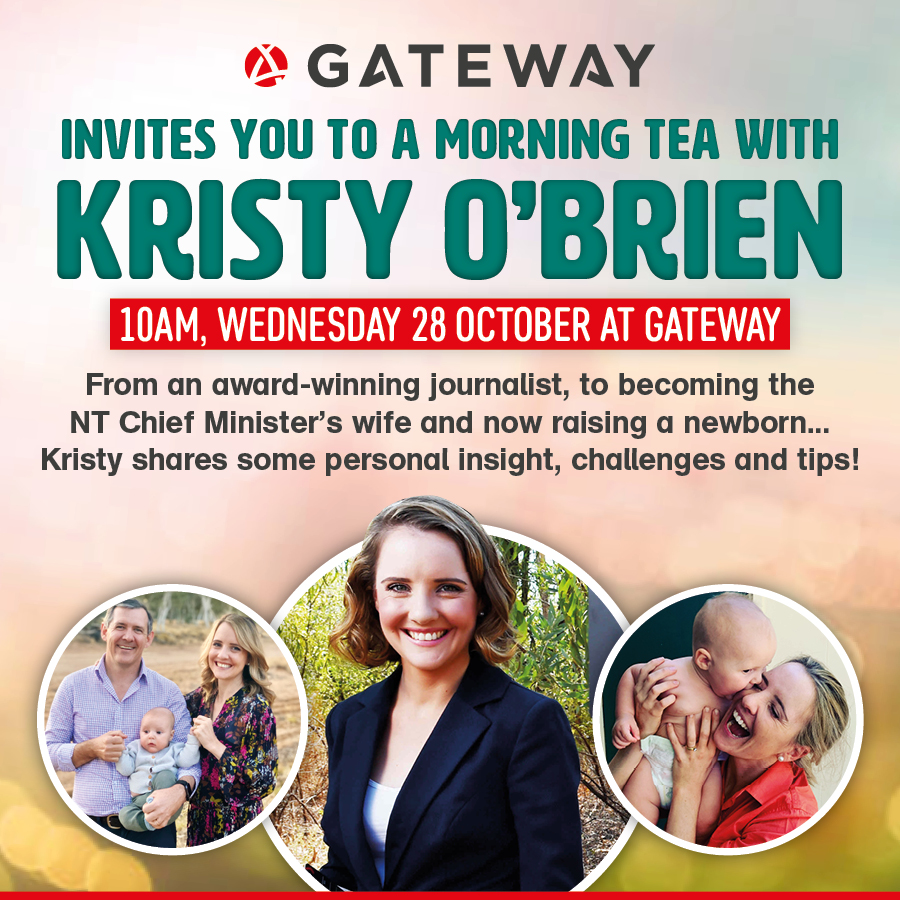 About Kristy O'Brien

Born on Queensland's Darling Downs, Kristy O'Brien, started her journalism career as a 16 year-old and has worked extensively across television and digital journalism.
She fell in love with the remote beauty and people of Northern Australia when she moved to the Northern Territory's Darwin newsroom in 2009 and now has put down firm roots in the region. In 2018 she was named the South Australia/Northern Territory Rural Journalist of the Year and Best Television Broadcast Reporter for her coverage of agriculture and regional issues. This followed her award for Best Current Affairs Journalist in the Northern Territory media awards in 2017. Kristy is also an accomplished documentary producer with a 2012 digital series called 'Cattle Scars' about the fall out of the live cattle export trade to Indonesia. She was named Screen Producers Australia's 'One to Watch' for her documentary 'Tough Ride' about the issue of brain injury among young people in regional Australia. She's produced and directed several international documentaries and in 2013 won the Australian International Documentary Conference Access Award which led to an internship working with Jamie Oliver's Fresh One Productions in London as an Assistant Producer.
Kristy welcomed Hudson, her first child in April this year with her husband NT Chief Minister, Michael Gunner.